We're excited to announce that SEIU Local 668 executed a side letter with the Commonwealth of Pennsylvania (COPA) earlier this week, providing for a one-time retention bonus to members of SEIU 668-represented bargaining units. This one-time retention payment will be $1,000 pre-tax awarded to members who have been in continuous active pay status in positions under the Governor's Jurisdiction between May 1, 2020, and June 3, 2022.
This retention bonus recognizes the essential, quality work that our members have provided throughout the pandemic and the need to keep qualified workers such as yourselves in the positions that keep our Commonwealth running.
This payment is the result of consistent advocacy and negotiation throughout the pandemic. We want to thank our sister unions in the Commonwealth and Governor Wolf for their efforts in making this a reality.
Our union has worked tirelessly throughout the pandemic to protect our members and improve workplace benefits and conditions. For Commonwealth employees, this has included bargaining unit-wide wins that have provided benefits such as six weeks of paid parental leave, a generous COVID-19 vaccination incentive and additional leave to get the shot, and a telework agreement that provides telework opportunities in most agencies.
These gains are materially important for our members, and we're continuing to engage in efforts to achieve more.
Thank you to all of our members for your continued dedication and service to our communities here in Pennsylvania!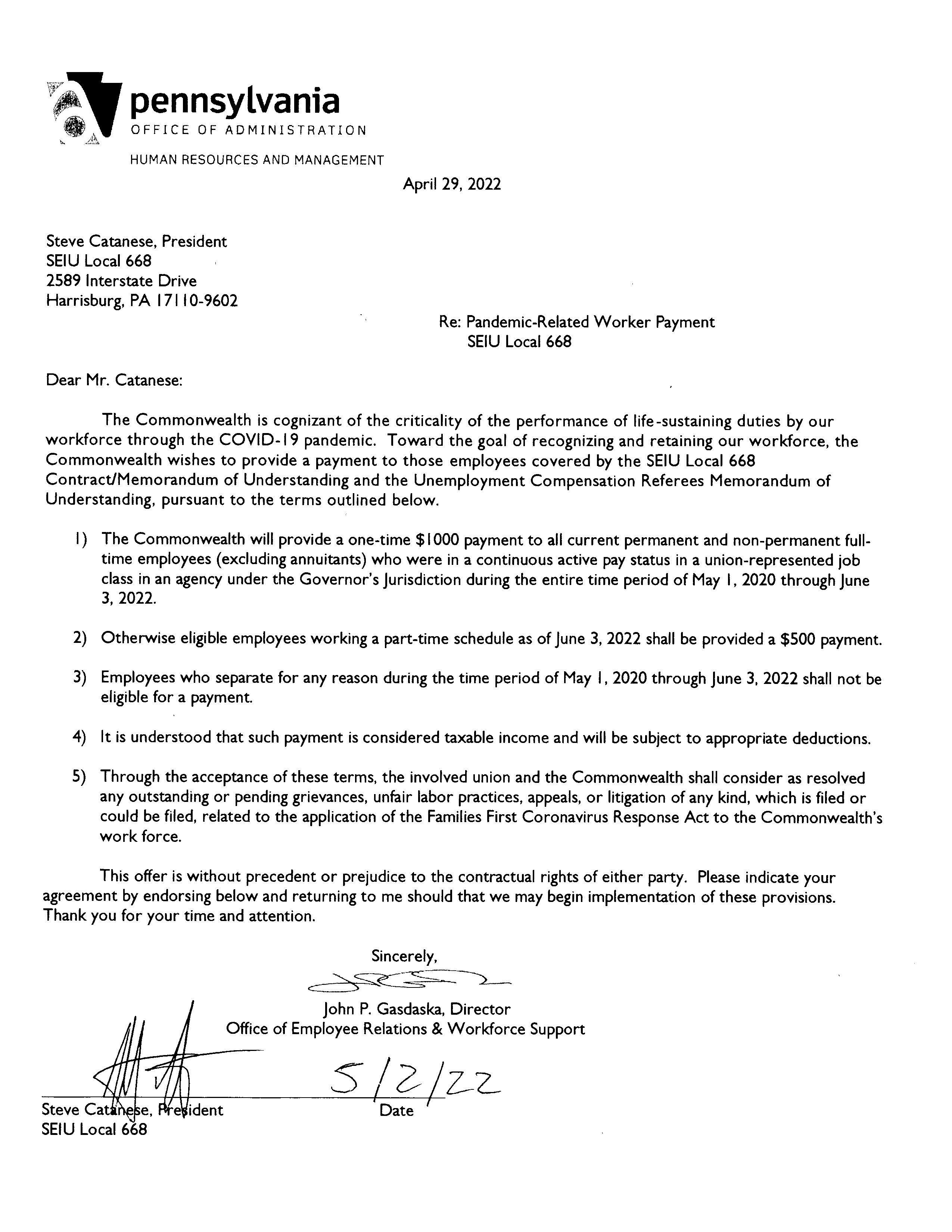 Learn more about the one-time retention bonus for Commonwealth members below!
Commonwealth of PA Retention Payment FAQs
What is the retention bonus?
This is a one-time bonus of $1,000 (pre-tax) for union-covered state positions that were in continuous active pay status between May 1, 2020, and June 3, 2022. The Commonwealth will issue this one-time retention payment in recognition of the hard work that public service employees have provided to our communities.
When will we see this reflected on our paychecks?
We anticipate workers seeing this one-time payment before the end of June 2022. We will update this webpage with specific information once we receive it from COPA HR.
Is the bonus taxed?
Yes. All income from an employer is taxed and this is no different. Taxes cannot be bargained.
Who gets this bonus?
This one-time retention bonus is for union-covered positions. It is something that the public sector unions negotiated with Governor Wolf and will be awarded to members of SEIU Local 668.
Why didn't I get this bonus?
If you were not in active pay status for any reason, you may be ineligible for this one-time payment. This includes any unpaid time you may have taken from work. Generally, as long as a person receives pay from the Commonwealth during every pay period over the course of the defined timeframe here, they'll be in active pay status for the purpose of this side letter. Any leave without pay (LWOP) status that is equal-to or more than a pay period in length would typically disqualify the worker from this retention payment. If you are denied solely due to being on Union Business Leave, please contact us.
If you have any questions, please reach out to your Internal Organizing Business Agent (IOBA) or send an email to Local668@seiu668.org and our staff will do their best to assist.